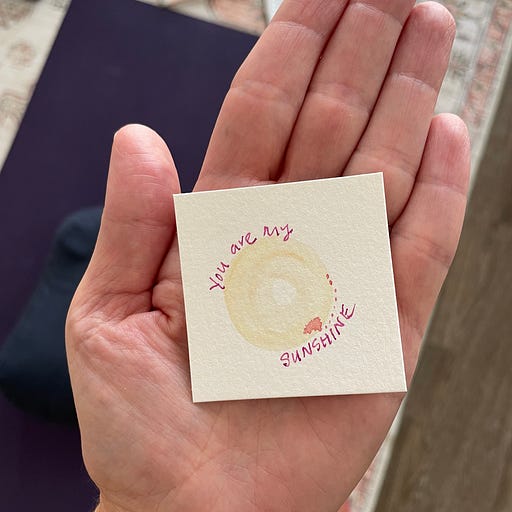 Aug 25 • 22M
Practice: Focus on Your Intention! - Episode 3
Experience anxiety? Let's shift feeling anxious to calm...right here!
Welcome to your home for inspiration! My mission is simple...to support mothers in their development of spiritual awareness and a cultivation of a deep connection to Spirit, in themselves and their children...through writing, art, yoga, prayer!
Hello and welcome to this episode of the Moving into Spirit Podcast!
Today we are going to review the post from Tuesday, August 22, 2023 titled Having an Intention Works…Intentions Have the Power to Transform Anxiety to Peace (link to the post below).
I am a big believer in the power of the system of yoga and how it has the ability to transform energy, such as shifting anxiety to peace.
As someone who has lived with a great deal of anxiety…always a running undercurrent to life…it wasn't until about 2016 that I fully immersed myself into the system of yoga and found how it had the ability to move me from states of anxiety to peace.
---
Settle in, get cozy and listen here as I share with you…
Yoga as a system, which begins with the foundations of compassion, truthfulness, surrender, letting go, self study - not with the flexi/bendy exercise yoga we most commonly see today

Breaking down the post Having an Intention Works from August 22nd

Experiencing the practice of shifting, transforming the thoughts and feelings around "I am anxious" to "I am calm"

Bringing an awareness to anxiety - where it lives in the mind as thought and in the body as sensation

Intending energy into existence - are you intending to be anxious or are you intending to be calm, at peace, serene

How to work with the body and breath to calm the mind (this is the practice!)

The intention I needed this week upon craving chocolate

Creating deeper connections to your family, your children - through intention

A key to cultivating your meditation practice - hint hint…it's this practice!

Reminder…working with an intention is a practice…so you must practice for it to work!
---
As promised at the end of our podcast meeting together…
If you find this work helpful, please share with family, friends. Click the "Share" button…
Is there something you are looking for as far as your own personal practice, your own personal intention? Let's work together!

Would you like your own personalized intention on a little custom watercolor? I'd love to send you one! Consider it a donation from me to you - another tool to help you begin your transformation from anxiety to peace!

Need your own copy of Fear and Musings: A Journey from Anxiety to Peace Through Poetry, Prayer, and Practice? I have 4 copies on hand…and can sign one with words of inspiration…just for you!

Use this button to send me an email!
Until we meet again next week…I wish you bright, beautiful, peaceful days and nights, filled with love, laughter, and lots of nature!
xoxo
Michelle
---
Behind the Scenes - What Happened Immediately After Recording the Podcast on Thursday 8/24/23
An Editing the Podcast Note: Just ended a call with my beautiful, dear friend, a lucky lady living her dream life in Asheville - miss you all, love you! - and made the most delicious cayenne pepper hot cocoa (with the Dutch cocoa and Spicewalla Cardamom Sugar YUUMMM)! I know, crazy on a 90 degree plus day here in sunny Florida! But it has made me feel oh-so-happy because the guesstimated recipe worked (I'm not a very good chef)!
---
Thanks for reading Moving into Spirit by Michelle Crider! Subscribe for free to receive new posts and support my work.
---